Hard Rock Hotel Bali


RHYTHM & MOTION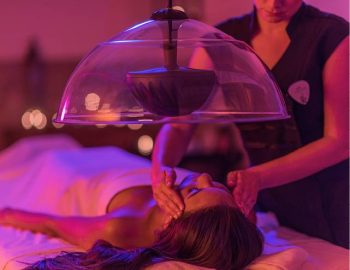 Turning up the volume on traditional massage practices, the massage therapist synchronizes movements with an expertly curated playlist as guests embark on a journey of the senses. Utilizing Hard Rock's differentiator – music – each treatment connects the healing power of music with the artistry of massage therapy.
Get 30% off 
for Rhythm and Motion treatments only.
Select your playlists, now!
Synchronicity 50 / 80 minutes
Smooth Operator 50 minutes
Face The Music 50 / 80 minutes
Wrap Remix 120 minutes
Synchronicity 60 min | IDR 550K++
Is a pulsating massage featuring a masterfully blended soundtrack. Utilizing greatest hits from yesterday to today, the treatment taps into memories to create an experiential journey, in sync with a performance of techniques, pressure and rhythm. The massage is infused with a choice of natural organic essential oils to reduce stress, ease muscle tension, and detoxify.
Smooth operator 60 min | IDR 650K++
Retunes the skin and rocks the soul with a two-part treatment that first removes impurities before introducing new nourishing elements. Starting with the rhythmical Sweetgrass-inspired dry brushing—  a ritual that softly sloughs rough skin away— and closing with a soothing, detoxifying wrap to release impurities, hydrate and smooth the skin, Smooth Operator wraps it up on a high note.
Face the Music 60 min | IDR 550K++
Combines the therapeutic benefits of sound vibration and clinically proven organic products to rejuvenate and hydrate facial skin. This journey leaves skin feeling smooth and refreshed, shedding years and restoring a star-worthy glow.
Wrap Remix 120 min | IDR 1,000K++
Is the ultimate healing experience, warming and enveloping guests in bliss before the treatment's sweet finish. Benefiting the entire body, this treatment begins with a cleansing shot of ginger tea to jumpstart the detox process, followed by brisk, rhythmical Sweetgrass-inspired dry brushing. Skin is deeply nourished post-wrap with the combination of a 50-minute rhythm and motion massage and cleansing facial mask, completing the treatment. A refreshing shot of Rock Spa® Detox Tea is then served to maintain the state of ahhh even longer.
Terms and Conditions:
 All prices are in thousand rupiah and inclusive government tax & service charge.
The above specials cannot be combined with other promotions or discount vouchers.
For maximum convenience and flexibility, we recommend you
schedule your spa sessions in advance.  All appointments must be guaranteed with a credit card.
Children under the age of 16 are not permitted in the spa/fitness facility.
Young adults between the ages of 16 and 18 may schedule Spa appointments with
their parent or guardian present during the treament.

For more information contact +62 361 761869 ext. 7325
email : rockspa.bali@hardrockhotels.net