Hard Rock Hotel Bali


CHRISTMAS BUFFET DINNER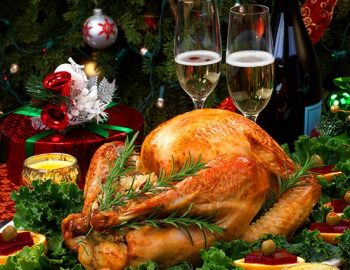 A great celebration begins at the dinner table. Begin your festive evening with a sumptuous buffet dinner,
featuring Honey Roasted Gammon Ham, Roast Turkey, Live Cooking Stations, and Christmas Yule Log Cake.
IDR 550K net/adult and IDR 275K net/child under 12 years old, inclusive of free flow soft drinks and chilled juices,
or free flow of cocktails, beer & house wine for IDR 825K net/adult.
24 – 25 December 2017, 6 pm onwards.
Only at Starz Diner. For more info, call 761869 ext 7522.
Make a Reservation Now
CHRISTMAS EVE DINNER BUFFET MENU
SUNDAY DAY 24TH DECEMBER 2017
Salads and Appetizers
Melon, sundried tomato and smoked prosciutto salad
Vietnamese chicken noodle salad
Shrimp and pina colada coleslaw
Baked pumpkin wedges, rocket, walnuts and feta cheese dressing
Roasted potato and green bean salad, kalamata olives and crispy bacon
Garden Salad Bar
Mixed lettuce leaves, broccoli florets, baby corn, carrots, red cabbage, white cabbage,
tomatoes, cucumber, green beans, sprouts
Dressings
Thousand island, italian vinaigrette, french dressing, honey-mustard dressing
Soup
Seafood chowder, focaccia croutons
Bakery Station
Selection of artisan rolls and loafs, focaccia, grissini, ginger bread house
Cheese Board
Assorted Farmhouse Cheeses, Grapes, Crackers
Hot Western
Grilled chicken breast, porcini mushroom ivory sauce
Grilled beef medallions, crushed green peppercorn jus
Pan fried snapper salmon fillets, saffron and dill cream sauce
Grilled pork chops, caramelized apples and onions, garlic butter sauce
Oven roasted baby potatoes with thyme, rosemary and garlic
Christmas vegetable panache with chives butter sauce
Hot Asian
Sapi masak dgn kalian
Chicken berempah
Ikan kakap masak, sambal matah
Chap chay
Kway teow goreng dengan seafood
Steamed white rice
Carving Station
Roast turkey, dried fruit and nut stuffing, cranberry sauce, red wine jus
Honey and mustard glazed gammon ham, apple sauce
Live Pasta Station
Spaghetti, squid ink pasta
Bolognese sauce, tomato napolitana sauce, marinara arrabiata sauce
Live Noodle Soup Station
Soto Madura, traditional condiments
Indian Station
Nafratan jalfresi
Lamb rogan josh
Garlic and butter naan
Wok Station Display
Chinese fried rice with char sui pork
Desserts
Sliced tropical fruits
Christmas fruit cake
Christmas pudding with brandy anglaise
Christmas yule log
Christmas stollen
Assorted christmas cookies and macaroons
Christmas cupcakes
Vanilla bean cream brule
Tiramisu torte
Chocolate tart
Raspberry trifle
Black forest gateau
Chocolate fountain with miniature doughnuts, marshmallows, tropical fruit skewers
CHRISTMAS DAY DINNER BUFFET MENU
MONDAY 25TH DECEMBER 2017
Salads and Appetizers
Salmon and Tuna nigiri sushi, crabmeat salad california rolls, wasabi, pickled ginger and tamari
Orange waldorf salad with smoked marlin
Grilled mediterranean antipasta vegetables, olive oil and balsamic
Thai shrimp and green papaya salad
Smoked chicken and mango salad 
Garden Salad Bar
Mixed lettuce leaves, broccoli florets, baby corn, carrots, red cabbage, white cabbage,
tomatoes, cucumber, green beans, sprouts
Dressings
Thousand island, Italian vinaigrette, French dressing, honey-mustard dressing
Soup
Oven roasted pumpkin bisque, lavash crackers
Bakery Station
Selection of artisan rolls and loafs, focaccia, grissini, ginger bread house
Cheese Board
Assorted farmhouse cheeses, grapes, crackers 
Hot Western
Char grilled lamb cutlets, rosemary and roasted garlic jus
Grilled beef medallions, mushroom and grain mustard ivory sauce
Pan fried barramundi fillets, gremolata, orange butter sauce
Asparagus and mascarpone cheese risotto
Christmas panache vegetables with tarragon butter sauce
Tray roasted lyonnaise potatoes with garlic and caramelized onions
Hot Asian
Babi kecap
Stir fried beef with black pepper sauce
Crisp fried chicken and ginger
Mamak mee
Tumis kacang panjang dgn cabe merah
Steamed rice
Carving Station
Roast turkey,dried fruit and nut stuffing, cranberry sauce, red wine jus
Honey and mustard glazed gammon ham, apple sauce
Live Pasta Station
Squid ink pasta, spaghetti
Bolognaise sauce, tomato sauce, seafood arrabiata sauce
Live Noodle Soup Station
Bakso ayam, traditional condiments
Indian Station
Chicken tandoori
Lasooni palak corn
Butter naan
Wok Station
Nasi Goreng Indonesia
Desserts
Sliced tropical fruits
Christmas fruit cake
Christmas pudding with brandy anglaise
Christmas yule log
Christmas stollen
Assorted christmas cookies and macaroons
Christmas cupcakes
Green tea mousse cake
Blueberry swiss roll
Mango panna cotta
White chcolate cream brule
Strawberry cheese cake
Chocolate fountain with miniature doughnuts, marshmallows, tropical fruit skewers