Hard Rock Hotel Bali


RHYTHM & MOTION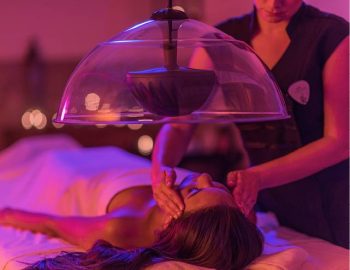 RHYTHM & MOTION
Turning up the volume on traditional massage practices, the massage therapist synchronizes movements with an expertly curated playlist as guests embark on a journey of the senses. Utilizing Hard Rock's differentiator – music – each treatment connects the healing power of music with the artistry of massage therapy.
Synchronicity 60 min | IDR 550K++
Is a pulsating massage featuring a masterfully blended soundtrack. Utilizing greatest hits from yesterday to today, the treatment taps into memories to create an experiential journey, in sync with a performance of techniques, pressure and rhythm. The massage is infused with a choice of natural organic essential oils to reduce stress, ease muscle tension, and detoxify.
Smooth operator 60 min | IDR 650K++
Retunes the skin and rocks the soul with a two-part treatment that first removes impurities before introducing new nourishing elements. Starting with the rhythmical Sweetgrass-inspired dry brushing—  a ritual that softly sloughs rough skin away— and closing with a soothing, detoxifying wrap to release impurities, hydrate and smooth the skin, Smooth Operator wraps it up on a high note.
Face the Music 60 min | IDR 550K++
Combines the therapeutic benefits of sound vibration and clinically proven organic products to rejuvenate and hydrate facial skin. This journey leaves skin feeling smooth and refreshed, shedding years and restoring a star-worthy glow.
Wrap Remix 120 min | IDR 1,000K++
Is the ultimate healing experience, warming and enveloping guests in bliss before the treatment's sweet finish. Benefiting the entire body, this treatment begins with a cleansing shot of ginger tea to jumpstart the detox process, followed by brisk, rhythmical Sweetgrass-inspired dry brushing. Skin is deeply nourished post-wrap with the combination of a 50-minute rhythm and motion massage and cleansing facial mask, completing the treatment. A refreshing shot of Rock Spa® Detox Tea is then served to maintain the state of ahhh even longer.
For more information contact +62 361 761869 ext. 7325
email : rockspa.bali@hardrockhotels.net